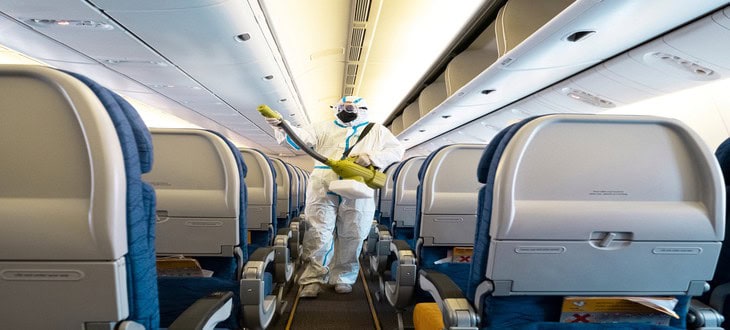 Helping Your Employees Commute to Work
Recently, the government decided to gradually ease the extraordinary measures taken to manage the spread of the Covid-19 pandemic.  This is a cautious affair – even though we've managed to flatten the curve, the threat of a second peak is still looming on the horizon. That's why it's vital that we comply with all the necessary precautions and maintain social distancing.
While the government has advised people who can work remotely to continue working from home, it has also eased mobility restrictions on people who cannot work from home and need to be physically present at their workplaces. Such individuals can now travel to their workplaces as long as they adhere to social distancing rules.
Social distancing, also known as physical distancing, is the process of proactively taking steps to slow down or completely stop the spread of a highly infectious disease.  Social distancing guidelines for the coronavirus outbreak entail maintaining a safe distance of at least 2 meters from other people – and since the virus spreads by respiratory droplets released when an infected person sneezes, talks or coughs, social distancing has emerged as one of the most effective methods of controlling its spread.
At Star Coaches of Batley, nothing matters more to us than the safety and well-being of our passengers. That is why we were quick to adapt to this ever-evolving scenario and implement robust protocols to bring our operations in line with the advise of healthcare experts. Here is how we ensure the safety of those travelling with us:
Business Travel: Ensuring a Safe Commute
Whether you run a business, a warehouse or a corporate office, Star Coaches can help your staff commute to work safely. We provide safe and comfortable shuttle solutions all over the UK. With our coach and minibus hire services, you don't have to worry about managing a safe return to work for your employees.
The UK government has already advised non-essential workers to avoid using public transport because of overcrowding. Since public transport is mainly reserved for essential workers, the government has asked other people to use alternative means of transport and adhere to social distancing even when they are travelling.
That's why private coach and minibus hire is one of the safest ways to travel these days. Nothing matters to us more than the well-being of our passengers and staff. That's why we put strict protocols in place to ensure the safety of those who travel with us.
Our minibuses and coaches are already roomy and comfortable, with enough leg space for everyone. Because of the pandemic, we have decided to reduce the maximum passenger capacity of our vehicles to make social distancing possible.
We value the safety of our drivers and passengers. We are strictly adhering to all the social distancing guidelines and have slashed capacity on services to a maximum of 50% to ensure that everyone who works for us or travels with us is safe and healthy.
Not only have we reduced the max passenger capacity, but we have also marked the available seats on every vehicle to guide passengers to their seats. Before every trip to or from a corporate office, our drivers make sure that everyone is wearing a mask and sitting at a safe distance. Passengers can also request hand sanitiser.
At the beginning of the outbreak, we realised that we had to step up and assist those travelling for essential needs. We took the advise of healthcare experts very seriously and put in place elaborate cleaning regimes.
Earlier, we cleaned our vehicles every day. Now, our cleaning staff is even more careful. Not only have we integrated antiviral products in our cleaning regime but we also use antiviral products to disinfect high contact surfaces throughout the day.
In compliance with the government directives, we have implemented a work from home policy for those of our employees who do not need to be present at the worksite. Our customer service and sales team are working from home so they can stay safe and assist you. Most of our sites are staff-free.
Star Coaches of Batley is doing everything to make sure that you and your team travel safely and comfortably. We are taking precautions and doing everything to adapt to these challenging times.
At Star Coaches of Batley, we are committed to making business travel as safe and risk-free as possible. Our staff have been very proactive in implementing SOPs and have received training to prepare and respond to this health pandemic. Our customer care team is also working hard to offer support and assistance. So, rest assured, you are in safe hands.
Need Private Coach Hire Services?
Want to hire a private coach or a minibus to arrange a safe return to work for yourself or your team? We can help. Star Coaches of Batley  is a reliable and well-established coach and minibus hire company.
We offer corporate coach & minibus hire services to businesses Halifax, Huddersfield, Wakefield, Bradford, Leeds and the rest of Yorkshire. Get in touch with us to find out which commute solution will work best for your team.